PENDETEKSIAN FINANCIAL STATEMENT FRAUD MENGGUNAKAN FRAUD PENTAGON PADA PERUSAHAAN PERTAMBANGAN TERDAFTAR DI BEI TAHUN 2018-2020
Keywords:
Fraud Pentagon Model, Financial Statement Fraud
Abstract
Financial statement fraud is the fraud that is carried out by displaying financial statements that are not by actual events. The reason for doing financial statement fraud is to make stockholders believe that the performance of the company is satisfactory. In facilitating its actions, it can be done by presenting annual financial statements that are better than the original, such as increasing profits and reducing debt. The purpose of this study is to identify opportunities for financial statement fraud to occur using the fraud pentagon model theory developed by Crowe Howarth in 2012. In the fraud Pentagon model, there are five main variable elements, namely pressure, opportunity, rationalization, ability, and arrogance. The population and sample in this study use annual reports from mining sector companies listed on the Indonesia Stock Exchange (IDX) during the 2018-2020 period. The data used is secondary data by obtaining it from the company's official website and the Indonesia Stock Exchange (IDX) website. Through the purposive sampling method, 32 companies were selected as samples. The multiple regression analysis methods was chosen to analyze the data assisted by the SPSS 21 program. The results of this study indicate that the ineffective monitoring variable as measured by the comparison of the board of commissioners influences on financial statement fraud. Meanwhile, other variables such as financial target, external pressure, nature of industry, Rationalization, Capability, and Arrogance do not affect on financial statement fraud.
References
Afrianto, D. (2016, 27 Januari). Direksi Timah Dituding Manipulasi Laporan Keuangan. Diakses pada 21 Desember 2021, dari : https:// economy.okezone.com/read/2016/01/27/278/ 1298264/direksi-timah-dituding-manipulasi-laporan-keuangan.
Alfarizy, M. S. Analisis fraudulent Financialreportpada Perusahaan Pertambangan publik melalui Crowe's Fraud Pentagon Theory. Skripsi. 2020;viii.
AICPA. 2002. "Consideration of Fraud in aFinancial Statement Audit. Statement on Auditing Standard." P. 99 in AICPA. New York.
Brennan, Niam M. dan Mary McGrath. Financial Statement Fraud: Some Lessons srom US and European Case Studies. Australian Accounting Review, 2007.Albrecht, W. S., Albrecht, C.O., Albrecht , C.C. and Zimbelman, Mark F. Fraud Examination 4th Edition. Cengage Learning. Ohio USA: Mason, 2011.
Cressey, D. R. (1953). Other People's Money: A Study in The Social Psychology of Embezzlement. Glencoe, IL: Free Press
Faradiza, S. A. (2019) 'Fraud Pentagon Dan Kecurangan Laporan Keuangan', EkBis: Jurnal Ekonomi dan Bisnis, 2(1), p. 1. doi: 10.14421/ekbis.2018.2.1.1060.
Faradiza, S. A. (2018). Fraud Pentagon dan Kecurangan Lapora Keuangan. EkBis: Jurnal Ekonomi dan Bisnis, 2(1), 1–22. https://doi.org/10.14421/ekbis.2018.2.1.1060
Harahap, D.A.T, Majidah, Triyanto, D.N. 2017. Pengujian Fraud Diamond Dalam Kecurangan Laporan Keuangan (Studi Kasus Pada Perusahaan Pertambangan Yang Terdaftar Di Bursa Efek Indonesia Tahun 2011-2015). e-Proceeding of Management : Vol.4, No.1, ISSN : 2355-9357.
Howarth, C. (2011) 'The Mind Behind the Fraudsters Crime: Key Behavioral and Environmental Elements', Horwath, Crowe, 94(8), p. 14.
Hugo, Jason. (2019). Efektivitas Model Beneish M-Score Dan Model F-Score Dalam Mendeteksi Kecurangan Laporan Keuangan. Jurnal Muara Ilmu Ekonomi dan Bisnis, Vol. 3, No 1 : 165-175
Kurniawan, A. (2017). Perusahaan Tambang Raksasa Rio Tinto Tersandung Kasus Penipuan. Diakses dari : https:// ekbis.sindonews.com/berita/ 1249611/35/perusahaan-tambang-raksasa-rio-tinto-tersandung-kasus-penipuan
Norbarani, Listiana. Pendeteksian Kecurangan Laporan Keuangan dengan Analisis Fraud Triangle yang Diadopsi Dalam SAS No.99. Semarang: Universitas Diponegoro, 2012
Novitasari, A.R dan Chariri, A. 2018. Analisis Faktor-Faktor Yang Mempengaruhi Financial Statement Fraud Dalam Perspektif Fraud Pentagon. Diponegoro Journal Of Accounting. Vol. 7, No. 4 : 1-15
Nuryuliza, S. dan Triyanto, D.N. 2019. Pengaruh fraud Triangle terhadap Kecurangan Laporan keuangan (Studi Empiris Pada Perusahaan Sektor Pertambangan Yang Terdaftar Di Bursa Efekindonesia Periode 2015-2017). Jurnal Manajemen. Vo. 6. No. 2. ISSN 2355-9357. Hal 3157
Putriasih, Ketut, Herawati, Ni Nyoman Trisna, dan Wahyuni, Made Arie. 2016.Analisis Fraud Diamond dalam mendeteksi Financial Statement Fraud:52 Studi Empiris pada Perusahaan Manufaktur yang Terdaftar di Bursa Efek Indonesia Tahun 2013-2015. E-Journal SI Ak Universitas Pendidikan Genesha. Vol. 6, No. 3:36-48
Rahmawati dkk. (2020). Pengaruh Opportunity Dan Rationalization Dalam Perspektif Fraud Triangle Terhadap Kecurangan Laporan Keuangan. Prosiding Webinar "Insentif Pajak Untuk WP Terdampak Covid-19", Program Studi Sarjana Akuntansi , Universitas Pamulang, 1-12.
Rahma. G. (2020). 51 Emiten IPO di 2020 , BEI Duduki Peringkat Keenam di Dunia. Diakses dari : https://bisnis.tempo.co/read/1418909/51-emiten-ipo-di-2020-bei-duduki peringkat-keenam-di-dunia
Skousen, C. J., K. R. Smith, dan C. J. Wright. "Detecting and Predecting FinancialStatement Fraud : The Effectiveness of The Fraud Triangle and SAS No.99."Corporate Governance and Firm Performance Advances in FinancialEconomics. Vol. 13, No. 53-81, 2008.
Tiffani, L., & Marfuah. (2015). Deteksi Financial statement fraud Dengan Analisis Fraud Triangle Pada Perusahaan Manufaktur Yang Terdaftar Di Bursa Efek Indonesia. JAAI (Jurnal Akuntansi Dan Auditing Indonesia, 19(2), 112–125
Wolfe, David T. dan Dana R. Hermanson. "The Fraud Diamond : Considering the Four Elements of Fraud." The CPA Journal, 2004: 38-42.
Yulia. 2016. Pengaruh Elemen Fraud Diamond Theory Dalam Mendeteksi Financial Statement Fraud Studi Empiris Pada Perusahaan ManufakturYang Terdaftar Di Bursa Efek Indonesia Tahun 2012-2016. Skripsi, Fakultas Ekonomi Universitas Negeri Padang. Padang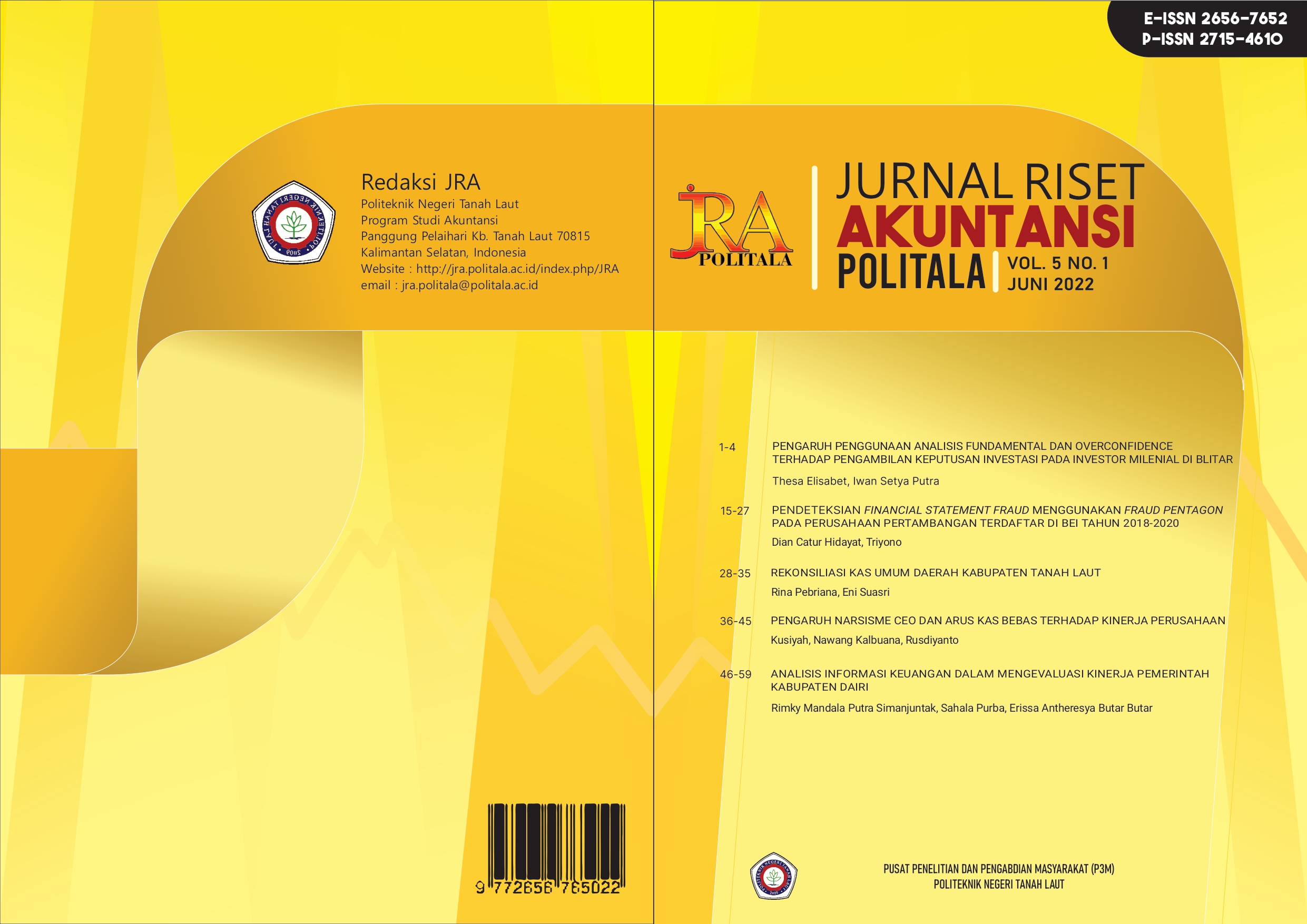 Downloads
License
Copyright (c) 2022 Dian catur hidayat, Triyono
This work is licensed under a Creative Commons Attribution-NonCommercial-ShareAlike 4.0 International License.