PREDIKSI KEBANGKRUTAN PT ASURANSI JIWASRAYA DAN PT PRUDENTIAL LIFE INSURANCE : APLIKASI METODE ALTMAN Z-SCORE
Keywords:
Insurance Company, Bankruptcy, Altman Z-Score
Abstract
Insurance companies are non-bank financial institutions engaged in services to overcome the risks that will occur in the future so that it is expected not to go bankrupt. The purpose of this study was to compare the potential bankruptcy of PT Asuransi Jiwasraya and PT Prudential Life Insurance for the period 2010 to 2017 using the Altman Z-Score method. Bankruptcy itself is a condition in which a company does not have sufficient funds to run its business again. The initial symptoms of bankruptcy are financial distress, which is characterized by uncertainty about the company's profitability in the future. Based on the research results of PT Asuransi Jiwasraya in 2010, 2011, 2012, 2015 and 2016 are in the gray zone or have the potential to go bankrupt. In 2013, 2014 and 2017 were in danger zones or bankrupt companies. While the results of research at PT Prudential Life Insurance show during the period 2010-2017 included in the gray zone or the potential for bankruptcy.
References
Adnan, H., & Arisudhana, D. (2012). Analisis Kebangkrutan Model Altman Z-Score Dan Springate Pada Perusahaan Industri Property. Jurnal Akuntansi Dan Keuangan, 1(1).
Al-Sartawi, A. (2016). Measuring the Level of Online Financial Disclosure in the Gulf Cooperation Council Countries. Corporate Ownership & Control Journal, 14(1).
Altman, E. I. (1968). Financial Ratios, Discriminant Analysis And The Prediction Of Corporate Bankruptcy. The Journal of Finance, XXIII.
Altman, E. I. (1984). A Further Empirical Investigation of the Bankruptcy Cost Question. The Journal of Finance, XXXIX(4), 1067–1089.
Burhanuddin, S. (2015). Aspek Hukum Lembaga Keuangan Syari'ah. Yogyakarta: Graha Ilmu.
Fatmawati, Y. (2016). Analisis Potensi Kebangkrutan Dengan Model Altman Z-Score Pada Perusahaan Asuransi Jiwa Syariah Di Indonesia.
Hanafi, M. M. (2013). Manajemen Keuangan (Edisi Satu). Yogyakarta: BPFE-Yogyakarta.
Hani, S. (2015). Teknik Analisa Laporan Keuangan. Medan: UMSU PRESS.
Hendrianto. (2012). Tingkat Kesulitan Keuangan Perusahaan Dan Konservatisme Akuntansi Di Indonesia.
Idawati, I. A. A., & Pratama, I. G. S. (2019). Analisis Prediksi Kebangkrutan Pada Sektor Keuangan Bank Yang Terdaftar Di Bei Menggunakan Multiple Discriminant Analysis. 3(1), 45–48.
Islamy, R. D., & Sumiati. (2015). Indikasi Potensi Kebangkrutan Menggunakan Multiple Discriminant Analysis Model Altman (Z-Score) Pada Perusahaan Textille Dan Garment Yang Terdaftar Di Bursa Efek Indonesia Tahun 2013-2015.
Kurniawati, S. (2016). Analisis Kebangkrutan Dengan Model Altman Z-Score Pada Perusahaan Subsektor Logam & Sejenisnya Di Bei Periode 2014. Seminar Nasional Cendikiawan 2016.
Leo. (2004, April 23). Prudential Life Assurance Dinyatakan Pailit. In 2004. Retrieved https://www.hukumonline.com
Nugroho, R. E., & Parwito. (2018). Analyzing The Potential Bankruptcy of Sharia Life Insurance Companies In Indonesia. International Journal of New Technology and Research, 4(10), 54–61.
Peter, & Yoseph. (2011). Analisis Kebangkrutan Dengan Metode Z-Score Altman, Springate dan Zmijewski Pada PT Indofood Sukses Makmur TBK Periode 2005-2009. Jurnal Ilmiah Akuntansi, 2(4).
Prastiwi, D. (2020, Januari 15). Perjalanan Kasus Jiwasraya Hingga Penetapan Tersangka. Retrieved https://www.liputan6.com
Rialdy, N. (2017). Analisis Prediksi Kebangkrutan Dengan Menggunakan Metode Altman Z-score Paada PT Adhi Karya (Persero) TBK. Jurnal Keuangan Dan Bisnis, 9(1), 79–96.
Rudianto. (2013). Akuntansi Manajemen Informasi untuk Pengambilan Keputusan Strategis. Jakarta: Erlangga.
Sinaga, M. N., Pelleng, F. A. O., & Mangindaan, J. V. (2019). Analisis Tingkat Kebangkrutan Pada Perusahaan Asuransi Yang Terdaftar Di Bursa Efek Indonesia. Jurnal Administrasi Bisnis, 9(2), 28.
Spence, M. (1973). Job Market Signaling. The Quarterly Journal of Economics, 87(3), 355–374.
Syilviana, & Rachmawati, T. (2016). Analisis kebangkrutan dengan menggunakan model Altman Z-Score pada perusahaan asuransi yang go public di Bursa Efek Indonesia (periode tahun 2010-2013). Jurnal Ekonomi Dan Bisnis, 1(1), 61–74.
Toto, P. (2011). Analisis Laporan Keuangan Teori dan Aplikasi. Jakarta: PPM.
Ulya, F. N. (2020, Januari 09). Simak, Ini Kronologi Lengkap Kasus Jiwasraya Versi BPK. Retrieved https://money.kompas.com
Uyar, A., & Kilic, M. (2012). Influence of Corporate Attributes on Forward-looking Information Disclosure in Publicly Traded Turkish Corporations. Procedia Social and Behavioral Sciences, 62, 244–252.
https://www.prudentialcorporation-asia.com
https://www.prudential.co.id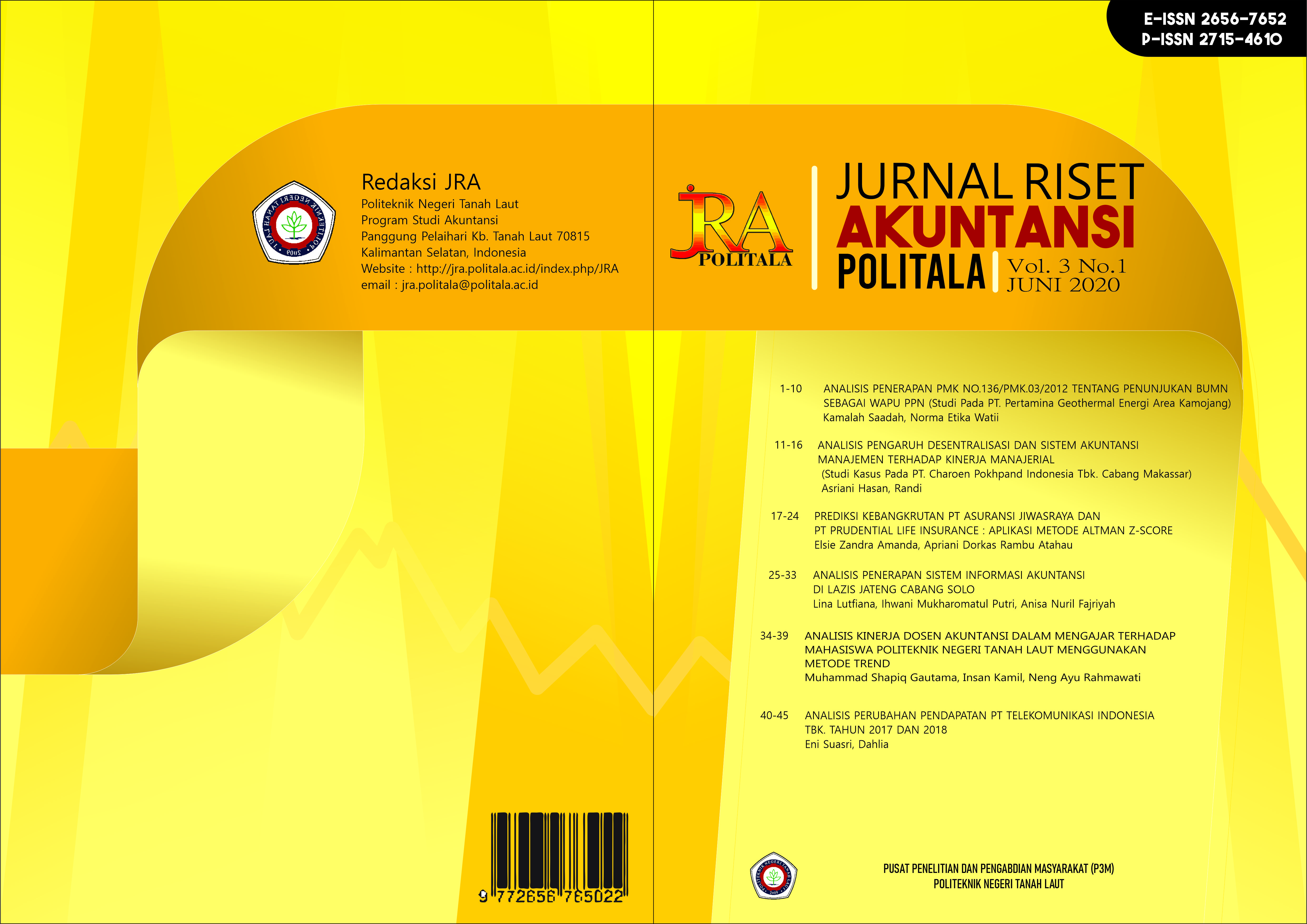 Downloads