PENGARUH DIGITAL BANKING TERHADAP NILAI PERUSAHAAN PERBANKAN
Studi Pada PT. Bank Negara Indonesia (Persero) Tbk
Irwan Moridu

Universitas Muhammadiyah Luwuk
Abstract
The purpose of this study is to look at and analyze the effect of digital banking on the profits of banking companies by studying at PT. Bank Negara Indonesia (Persero) Tbk during 2013 - 2019. The method used is descriptive quantitative in which the data is processed using multiple linear regression. The data collection method is a non-participant observation by taking data from financial statements. The results of the study found that an increase in the number of financial transactions using Digital Banking, namely SMS Banking, Mobile Banking, and Internet Banking, partially did not affect the increase in profits, this is possible because of the inconvenience and doubt of customers in the use of Digital Banking, while simultaneously the results of this study The results show that the effect is not significant, meaning that overall Digital Banking is influential, although not significantly to PT. Bank Negara Indonesia (Persero) Tbk.
References
Al-Smadi, M. O., & Al-Wabel, S. A. (2011). The impact of E- banking on the performance of Jordanian banks. Journal of Internet Banking and Commerce.
Allen, F., McAndrews, J., & Strahan, P. (2002). E-finance: An introduction. In Journal of Financial Services Research. https://doi.org/10.1023/A:1016007126394
Anugerah Septiawan, B. (2013). Pengaruh Aplikasi Internet Banking Dankesehatan Bank Terhadap Kinerja Keuangan(Studi Empiris pada Perusahaan Perbankan di Bursa Efek Indonesia).
Egan, R., & Prawoto, H. (2013). Pengaruh Internet Banking Terhadap Kinerja Perbankan di Indonesia (Studi Empiris Pada Bank yang Listing di BEI). Jurnal Akuntansi Bisnis, 11(22), 138–153. https://doi.org/10.24167/jab.v11i22.419
Khrawish, H. A., & Al-Sa'di, N. M. (2011). The Impact of E-Banking on Bank Profitability: Evidence from Jordan. Middle Eastern Finance and Economics, 0(13), 142–158.
Margaretha, F. (2015). Dampak Electronic Banking. Jurnal Keuangan Dan Perbankan, 19(3), 514–524.
Onay, C., Ozsoz, E., & Helvacıoğlu, A. D. (2008). The impact of Internet-Banking on Bank Profitability- The Case of Turkey. 2008 Oxford Business &Economics Conference Program.
Sinambela, E., Studi Akuntansi, P., & Ekonomi dan Bisnis, F. (2017). Forum Keuangan Dan Bisnis Indonesia (FKBI) When Fintech Meets Accounting : Opportunity and Risk Pengaruh Penyediaan Layanan Internet Banking Terhadap Kinerja Keuangan Perbankan di Bursa Efek Indonesia (Vol. 6). FKBI. http://fkbi.akuntansi.upi.edu/
Sudaryanti, D. S., Sahroni, N., & Kurniawati, A. (2018). Analisa Pengaruh Mobile Banking Terhadap Kinerja Perusahaan Sektor Perbankan Yang Tercatat Di Bursa Efek. Jurnal Ekonomi Manajemen, 4(November), 96–107.
Keldaniaz. (2020, Mei 3). SMS Banking - Pengertian dan Manfaatnya. Diakses dari http://keldaniaz.blogspot.com
Shihan Bank. (2020, Juni 1). Pengertian Mobile Banking. Diakses dari https://www.shinhan.co.id/article-listings/read/pengertian-mobile-banking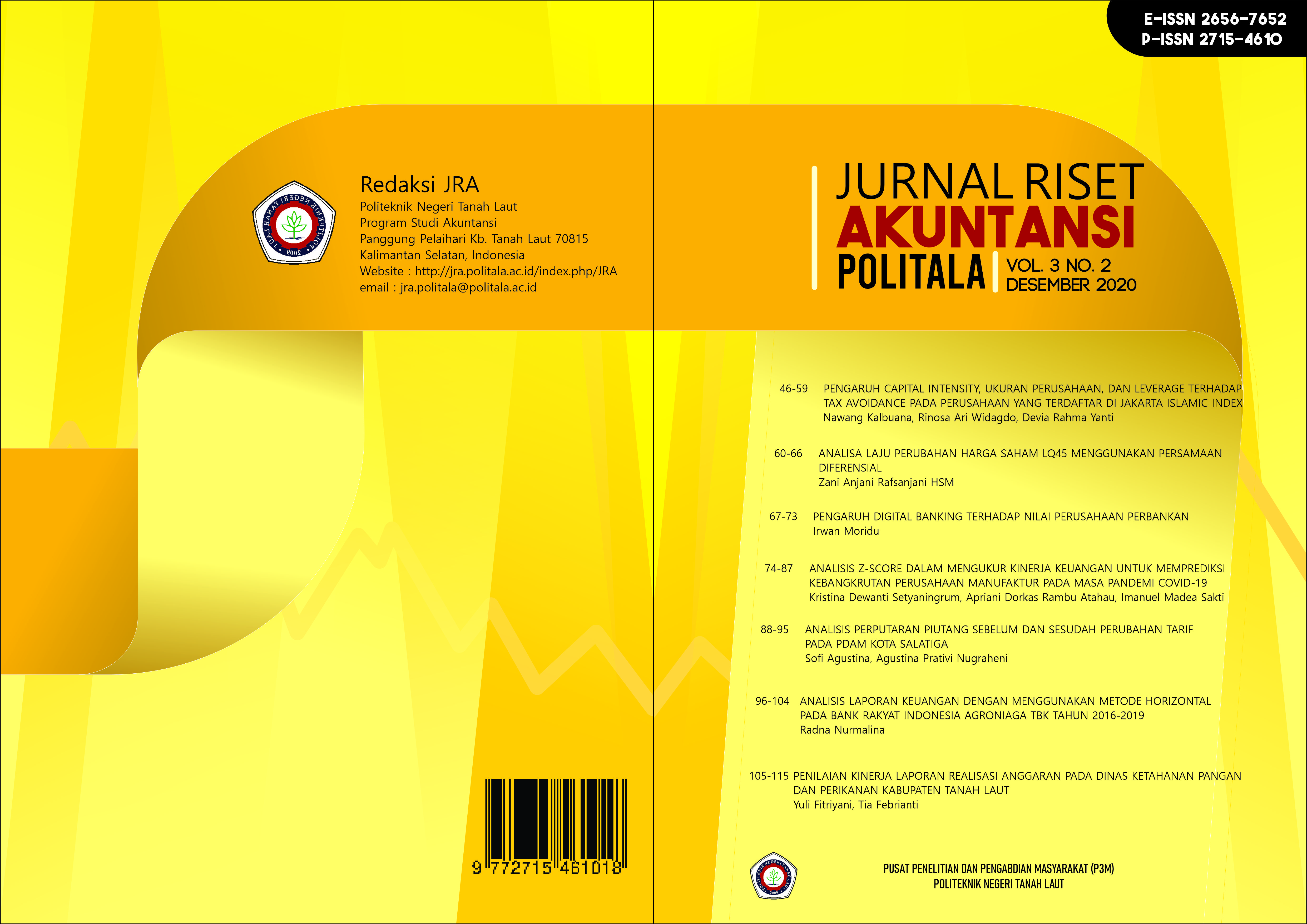 This work is licensed under a Creative Commons Attribution-NonCommercial-ShareAlike 4.0 International License.