ANALISIS PENERAPAN PMK NO.136/PMK.03/2012 TENTANG PENUNJUKAN BUMN SEBAGAI WAPU PPN (Studi Pada PT. Pertamina Geothermal Energi Area Kamojang)
Keywords:
Tax Delay, VAT, PMK No.136 / PMK.03 / 2012
Abstract
This study aims to determine the description and analysis of the application of PMK No.136 / PMK.03 / 2012 which includes payment, deposit and reporting procedures for Value Added Tax at PT Pertamina Geothermal Energy (PGE) Kamojang Area. The method used in this research is descriptive qualitative method with data collection techniques by observation, interview and documentation. Data sources used in this study are primary and secondary data. This study produces a description that the obligations of PT PGE Kamojang Area as a Value Added Tax Taxpayer have been carried out properly in accordance with PMK No.136 / PMK.03 / 2012, but at the time of its implementation found errors from partner companies which resulted in delays. Further impacts will lead to the imposition of administrative fines for both parties. This research is expected to contribute input regarding Value Added Tax for PT PGE Kamojang Area to become a more orderly company in tax administration. The observations that have been made show that there are some discrepancies in the implementation of the Value Added Tax payment procedure. As a result, if it is not met, there will be sanctions for the delay in depositing and reporting the tax.
References
Aditya, Kurnia (2017). Analisis Penerapan KMK No.563/KMK.03/2003 Tentang Penunjukkan Bendaharawan Pemerintah Sebagai Wajib Pungut Pajak Pertambahan Nilai Pada Pusat Pengembangan Sumber Daya Minyak dan Gas Bumi (PPSDM) Migas. Thesis. 2017
Eko, Supriano (2015). Analisis Penerapan Pajak Pertambahan Nilai (PPN) Studi Atas Pencatatan dan Perhitungan PPN Pada PT Semen Indonesia (Persero) Tbk.Thesis. 2015
Hafidhotul, ilmi (2016). Analisis Penerapan Pajak Pertambahan Nilai pada PT. Jen Tsong Indonesia. Thesis. 2016
KementerianKeuangan.Apbn-Kita-Edisi-September-2018.pdf. https://www.kemenkeu.go.id/media/10576/apbn-kita-edisi-september-2018.pdf. [13 September 2018]
KementerianKeuangan.Apbn-Kita-Edisi-November-2018.pdf. https://www.kemenkeu.go.id/media/10576/apbn-kita-edisi-november-2018.pdf. [31 Maret 2020]
Kementerian Keuangan. Penerimaan Pajak Utama Terbesar Berasal dari PPN. https://databoks.katadata.co.id/datapublish/2018/12/13/penerimaan-pajak-utama. [13 Desember 2018]
Mardiasmo. (2011). Perpajakan Edisi Revisi 2011. Yogyakarta : Penerbit Andi.
Mustari (2012). Tinjauan Atas Kewajiban Pemungutan Pajak Pertambahan Nilai Pada pt Kereta Api Indonesia (Persero) Bandung.Jurnal Pajak Pertambahan Nilai Vol.1,Juli 2012, hlm1-8.
Pemerintah Republik Indonesia, Undang-undang nomor 16 Tahun 2009, Tentang Ketentuan Umum dan Tata Cara Perpajakan.
Pemerintah Republik Indonesia, Undang-undang 42 Tahun 2009, Tentang Pajak Pertambahan Nilai Barang dan Jasa dan Pajak Penjualan Atas Barang Mewah.
Suandy.(2011). Perencanaan Pajak. Edisi 6.Jakarta : Salemba Empat.
Waluyo. (2009). Akuntansi Pajak . Jakarta : Salemba Empat.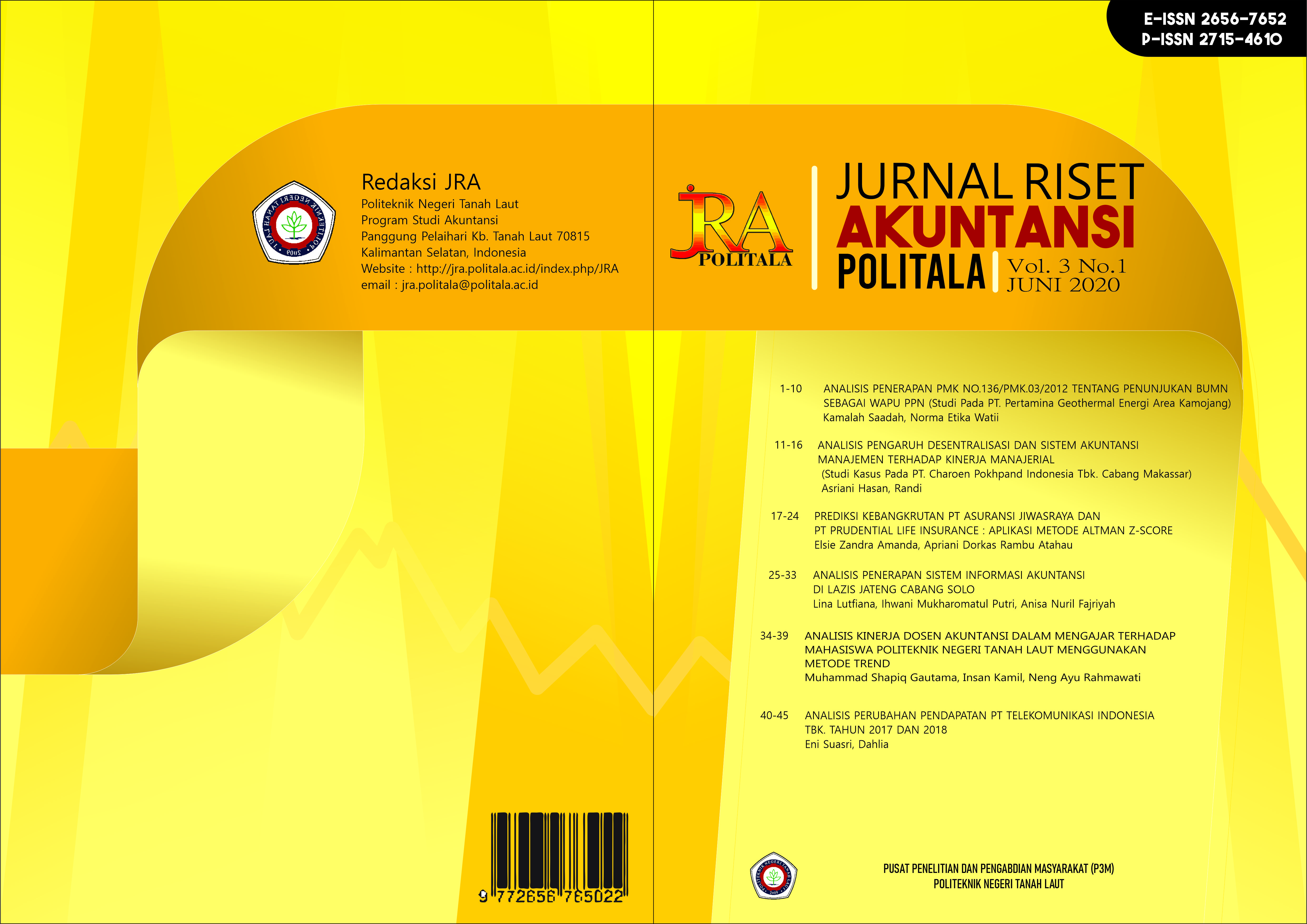 Downloads